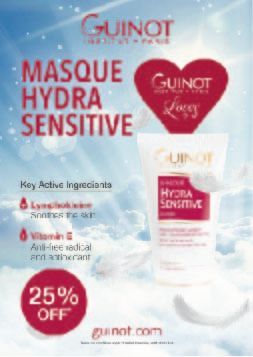 GUINOT LOVES Masque Hydra Sensitive News valid until 07/01/2019
EXCLUSIVE IN-SALON OFFER!
Receive 25% off until 2nd January 2019!
Purchase TODAY in-salon now!
With the colder weather fast approaching, wrap your skin in ultimate comfort with Masque Hydra Sensitive. This cooling, non-setting face mask soothes highly irrated skin and helps reinforce the skin natural barrier to help combat the cold weather and other external irritants.
Terms and Conditions apply. Offer valid from 30th October until 2nd January 2019