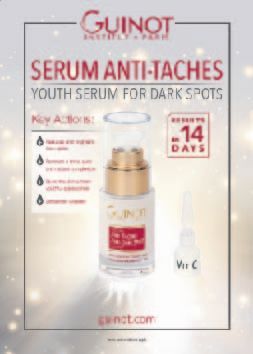 NEW PRODUCT LAUNCH - Serum Anti-Taches News valid until 07/01/2019
14 DAY YOUTH SERUM TARGETTING SUN AND AGE INDUCED DARK SPOTS
This cutting-edge product uses pure Vitamin C to reduce dark spots caused by the sun and by ageing and prevent the formation of new dark spots.
Serum Anti-Taches is formulated with Phytic Acid and Guinot's patented 56 Cellular Life Complex to refine fine lines and smooth the skin while restoring an even and radiant complexion.
For advanced, visible results this treatment serum should be used within 14 days of mixing to achieve optimal results.
Visit us in-salon for further information, one of our professional Beauty Doctor's would be happy to discuss the best skincare products for you in more detail.
Pop in salon and see us now.